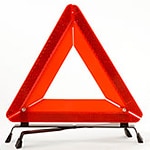 Being involved in an auto accident is never a fun experience. It can be heartbreaking, difficult, expensive and even confusing, at times. That is why, we at Earthycars wish to give you the following two tips to help you the next time you find yourself in an accident, so you can feel confident driving safely on the road.
Two Major Tips For Auto Collisions
1. Check For Injuries- Be sure not only to check yourself, but to also check others involved. This includes other motorists. Be sure to call for an ambulance as well, if the situation calls for it.
2. Secure a Place of Safety- Once you've ensured that all parties are receiving proper medical care, it is imperative that you get yourself and others to a place of safety. Do not leave the scene of the collision and be sure to move your vehicle out of the way of oncoming traffic, only if you are able. If you need to, you should also contact the local authorities, as soon as possible.
All in all, when involved in an accident, it is important that you take the right steps. Remember to always involve medical help and to stay put until the authorities arrive on the scene.