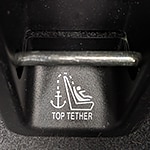 Many new parents think that saving for college or answering questions about the meaning of life are the most difficult challenges of parenting until they're faced with installing a child-safety seat. While this task can be tough, it's definitely surmountable with a little patience and perseverance.
In-depth reviews of your vehicle's manual and the seat's instruction booklet are the first steps to properly installing any seat. Your vehicle also likely has pre-attached tethers and other devices designed to simplify safety seat installation, so locate and familiarize yourself with what's already on board.
Ensure that the safety seat is positioned correctly for your child's height and weight, and use the seatbelt or tether system to secure it in place. It should move an inch or less in any direction after being fastened in. If you need further help, don't hesitate to contact the team here at Earthycars at your convenience.