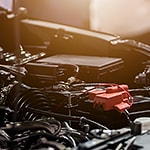 The lone motorist broke down at the snowy roadside and needing a jump start is a common image in pop culture. However, intense winter temperatures aren't the only enemy of a car battery. Summer's heatwaves are just as deadly. According to the factory-trained techs in our Earthycars service department, here's why.
Increased Capacity, Shorter Life
Summer brings good news and bad news to your car battery. In summer, your car battery's capacity increases as the weather gets hotter. However, this has two drawbacks.
Read More