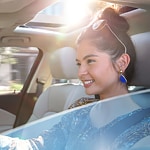 When your teen starts to learn how to drive, then it is time for you to start thinking about buying them a car. For most parents this is a mix of excitement and trepidation.
Identifying the right model is all about understanding how to get the most safety features that you can in a simple, straightforward vehicle. Complicated software interfaces and big, powerful engines are not a good idea for a new driver. Likewise, make sure that you don't get a vehicle with an inefficient engine, because that can quickly rack you up significant monthly expenses in terms of gas.
It is all about making sure that you can trust your teen to manage the vehicle and its features, so keep it as simple as you can without compromising safety elements and tools.