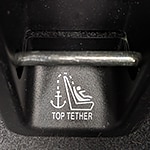 LATCH is short for Lower Anchors and Tethers for Children. It is the hardware provided for the installation of child seats and to make it easier to transport children. Ratings from the Insurance Institute for Highway Safety seek to make automakers focus more on LATCH hardware.
When evaluating LATCH, the IIHS looks at the ease of use of the lower anchor and the tether. They check the lower anchor to ensure it has a depth of less 2 cm and are visible from a 60-degree viewing angle. The lower anchor also needs to have a clearance angle of at least 54 degrees and allow an attachment force of at least 178 N.
For the tether, a car needs to have tether anchors on the seat's rear deck or on the top 85% of the car's seatback. There should be no hardware that parents can confuse for a tether anchor, and if present, it should have contrasting labels clearly indicating what it does. IIHS gives vehicles ratings as follows: Good, Acceptable, Marginal, or Poor based on how they meet the criteria above.